June 21-25, 2021 (Monday – Friday)
9:00am – 11:15am
for kids entering Kindergarten through 6th Grade
---
The event is FREE!
Online registration is now closed. Walk-up registration will be available. Please arrive early to allow extra time for registration.
We would love to have you on the team! Sign up to help now.
Volunteer Registration
Each morning will include music, teaching, games, hands-on activities, and snacks. New this year, VBS will be entirely outdoors for grades 1-6. Our Kindergarten students will be hybrid indoor/outdoor.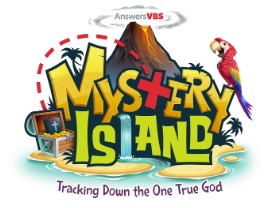 The theme this year is Mystery Island – Tracking Down the One True God. Each day, kids will learn more about one of God's amazing attributes and how that applies to their lives.
Is there just one God?…Who is God?…What is God like?…Does God love me?…Can I know God? Our kids grapple with questions like these every day. At Mystery Island, we'll uncover the truth about our Creator God! There's a sea of confusion about who God is and what He's like, so we'll track down the one true God and learn how amazing He is through the pages of Scripture.